CT41G New Company Details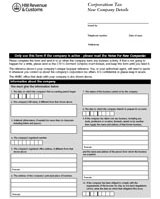 What is form CT41G?
Form CT41G was sent to every new company and was used to apprise HM Revenue & Customs of their company details and when they intend to start their business activities. The form needed to be sent to HMRC within 3 months of the company starting its first accounting period.
When will I receive form CT41G?
HM Revenue & Customs no longer send out form CT41G. Instead, you will receive a letter from them advising you to register online on their website.
As HMRC no longer use this form, we no longer offer the assistance service.