Company Formation for Professionals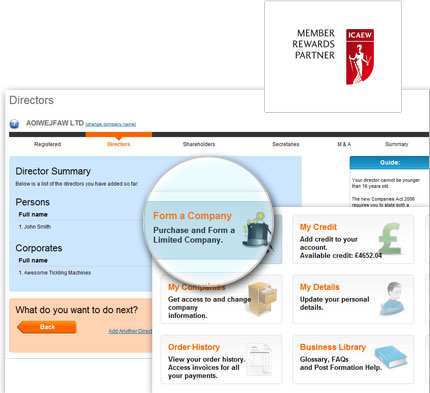 If you're forming limited companies on behalf of others, we offer some great benefits to our professional clients.
What you get
Loyalty Scheme, buy 10 companies get 1 free
Free cloud Company Management Portal (Cosec)
Excluded from email promotions for rival services
Client confidentiality. Your clients will not know you've used our services. We will never contact them and all incorporation documents are sent directly to you.


How to buy
To buy any of our professional company formation packages, simply login or sign up and select 'form a company' from the dashboard. The packages on our homepage are our retail packages and do not qualify for the above benefits. If you can not see 'Form a Company' on your dashboard please contact us and we will upgrade your account.
Professional Company Formation Packages:
Full trading company Limited by Shares
What's included in the packages?

Starter

£12.99

Executive

£15.99

Professional

£34.99

3 Hour Online Formation

No paper forms to complete. Start trading in hours!

Online Admin Portal - Cosec

24 hour access to your company secretarial management system.

Electronic Company Incorporation Documents

Memorandum & Articles, Share Certificates and Certificate of Incorporation.

Printed Certificate of Incorporation

A printed copy of the company's Certificate of Incorporation, posted to you.

Personal Account Manager

Dedicated account manager to answer your queries and manage your account.

Company Register

Unbranded Company Register, perfect for your clients and posted to you.

Registered Office - N1 Address (optional)

Use of our London N1 address as your clients registered office.
Company Formation for Professionals FAQs
How do I buy a professional package?
Simply login or sign up for a professionals account and select the form a company button from the dashboard.
Can I buy a retail package from your homepage?
You are welcome to buy any package that suits your requirements. however, please be aware that our main retail packages are not part of our loyalty scheme. You will also receive offers and vouchers from our partners that may rival services to your own.
What is Cosec?
Cosec is our Company Secretarial Management portal and it's free for our professional clients to use. Click here for more information.
Will my clients know I've used your service?
No. We'll send all incorporation documents directly to you thought the post or email. Also our company registers are unbranded so you can send them directly to your clients.